Polk County Pick and Pay
Depósito autoservicio de piezas automotrices.
Polk County Pick & Pay es un depósito autoservicio de piezas automotrices donde puede extraer las piezas usted mismo.
Traiga sus propias herramientas y extraiga sus propias piezas.
Tenemos cientos de automóviles y camiones de los que puede extraer sus piezas. Todos los vehículos están ubicados sobre soportes de ruedas y están organizados en el depósito. Tenemos carretillas, grúas para motor y extractores de neumáticos para su comodidad y ofrecemos información sobre el intercambio gratuito de piezas. Incluso puede revisar nuestro inventario en línea antes de venir.
Búsqueda de inventario vehicular
---
NEWEST ARRIVALS
---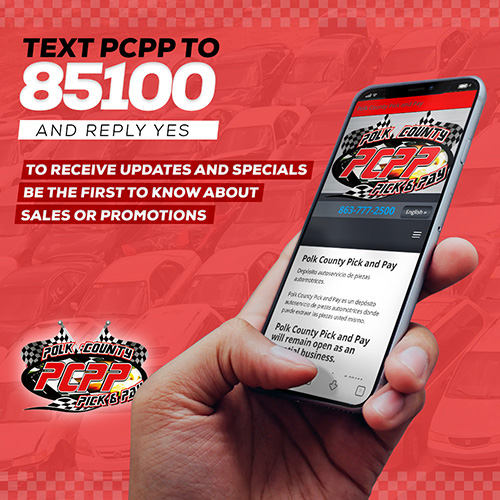 VENDA SU AUTOMÓVIL POR DINERO
Ofrecemos el mejor precio por automóviles
en cualquier condición
Pagamos en EFECTIVO por automóviles
y camiones, incluso si no funcionan.
¡Convierta su vehículo usado en DINERO!
VENDA SU AUTOMÓVIL POR DINERO
Servicio de remolque disponible.
Llame ahora para cotizar el vehículo: 407-624-3900
Central Florida Pick and Pay will remain open as an essential business.
Our business hours are from 8AM-5PM 7 days a week. Entrance to the yard closes at 4:30.
We are limiting our customers in the building to less than 10 at a time. Please, help us maintain this limit by being patient we will check-in and check-out as fast as possible.
We ask that our customers maintain a 6 foot distance at all times.
To avoid the spread of the virus we are constantly cleaning our facilities, wearing masks, and gloves.
Entry fee is $2.
** We do check bags on the way in and on the way out so PLEASE have all bags ready for check. **
For a quicker experience download our APP. You will have access to inventory and lot maps to find the location of a vehicle.
We will shut down water fountains and coffee stations so please bring drinks to stay hydrated.
Our paved yard has 20 acres of land. It is also organized making it fast and easy to find your vehicle and keep everyone at distance.
**If you feel sick please stay home. We also apply this to our employees to keep everyone safe.
** Stay Safe.
*Make sure you follow Coronavirus (COVID-19) for safety guidelines.
Team CFPP
Review Us
Información del depósito
Horario del depósito
Se permite la entrada hasta
30 minutos antes la hora de cierre
Tarifa de ingreso de $2.00
Ubicación
Polk County Pick and Pay
7623 US Highway 98N
Lakeland, FL 33809
863-777-2500
Ext 1 to sell your vehicle
Ext 2 for parts sales

Nuestra garantía
60 dias de garantia de crédito de lá tienda para todas las partes
Garantia extendida de 1 ano disponible